Tree Removal Waverton
Tree Removal Waverton – Tree removal is a specialised job that's handled by arborists. There are times when an old, decayed or damaged tree can pose a threat to property and life. In situations such as these, it becomes important to call specialists in tree removals Waverton. There are a number of different reasons why you should call experts to handle this job.
One of the primary reasons being the size of the tree that would need the right technique and equipment to remove.
At times, the tree may be extremely close to communications and high tension power lines and if novices try to remove the tree that can potentially cause electrocution or death even.
In certain situations, the leaning or damaged tree may be very close to a residential or commercial building. Using incorrect techniques will only pose a threat of collapse.
We at The Complete Tree Experts are the emergency tree removal Waverton specialists that cater to residential as well as commercial customers. We are on call 24/7 and have the experience, knowledge, skills and resources to provide custom tree removal services exactly when you need them.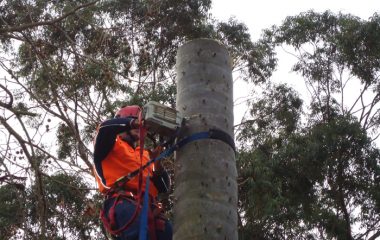 When Do You Need Tree Removal Service Waverton?
As mentioned at the outset, there are a number of different reasons why tree removal may become necessary:
The tree is in decline or dead
It has excessive termite damage, fungi or rot and is becoming unstable
It can potentially damage landscaped or paved areas, utilities or structures and buildings
It is obstructing some new proposed development
Its dropping very large branches or is leaning precariously into a structure
Tree Removal Service Near Me
When you find that you are dealing with a situation in which tree removal is required, all you have to do is call tree removal professionals Waverton. We are local to your area and provide prompt, reliable and expert services. We follow a very methodical approach in our work:
Our experts will inspect the tree in question.
They will assess the level of damage and provide you an objective opinion on whether removal in the only option. In some cases, cabling and propping the tree provides it the support it needs and it ceases to be a hazard.
If tree removal is the only solution, we will use the latest techniques and equipment and safely remove the tree.
The stump will be ground and all the branches, leaves and wood chips will be removed from the property and disposed of responsibly.
Professional Tree Removals Waverton
If you are looking for tree removal experts, rest assured that we will be at your location within the shortest possible time to attend to the problem. We are very prompt with our response and provide excellent solutions at very reasonable tree removal cost, to residential and commercial customers. For all your tree removal Waverton needs, please call The Complete Tree Experts on 0451 000 600. If you have any other tree service related queries or want to request a free quote, this is the form to fill.