Sydney Stump Grinding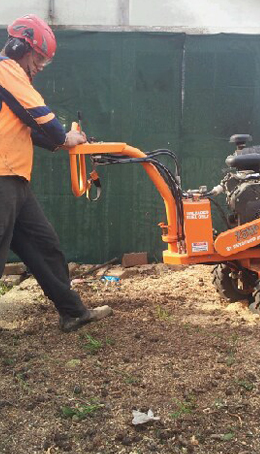 Sydney Stump Grinding – Tree stumps can be unsightly and dangerous. Not to mention, they can also be a safety hazard for your home and yard. Well, no need to worry! Complete Tree Experts Sydney offers the most professional stump grinding services in Sydney. Our skilled operators will remove tree stumps regardless of size with utmost care. We pride ourselves on customer satisfaction and guarantee that we will leave your property clean and tidy after we work with you. So, contact us today and schedule an appointment!
No worries! No matter whatever the case is we provide Stump Grinding service to the level that all size of stumps are handles with perfection. We have top class Vermeer Stump Grinding machines that can grind stump away from your property. No matter the area where the stump is located whether it is narrow or wide our Stump Grinding machines available can work with great proficiency.
The different sized machines combined with our staffs' expert Stump Grinding technique makes stumps of diverse length cut without flaw. So where the Stump Grinding machinery is not helping our staff years of knowledge and practical experience can work in Stump Grinding. Consequently the Sydney Stump Grinding satisfaction is 100% guaranteed.
Sydney Stump Grinding Services
There's nothing quite like the feeling of walking through your yard, admiring the trees that you can now see! Whether your yard is in need of some serious TLC or you're considering planting a new tree, it'll be much easier to do with an expert. This blog post is all about stump grinding Sydney by Complete Tree Experts Sydney. We take the hassle out of tree removal and provide expertise to help you maintain your yard.
We offer a range of tree services, including tree pruning, tree shaping, stump grinding Sydney by Complete Tree Experts Sydney, tree removal and stump grinding Sydney by Complete Tree Experts Sydney. With so many options available to you, chances are we have one that will meet your needs!
Sydney Stump Grinding
Stump Grinding Sydney – Talking about the after-math when we are done with Stump Grinding, we will do exactly what you have told us to do, either we will pile the stump after grinding for reuse as mulch or we can even haul them away for an extra charge. But the charges are justified enough as the Stump Grinding will make the overall area fertile to plant Trees all over again, and leaving the stumps can cause problem.
Stump Grinding North Sydney – Our estimators will provide you a complete solution with best options available, so you can choose from among multiple alternatives and have the customized yet expert touch package of Stump Grinding. Our Arborist alternatively can suggest you the most cost efficient yet lavish way of Stump Grinding, nurturing your Trees for classy look, making people around you feel jealous.
North Shore Sydney Stump Grinding
Stump Grinding – Yes, the Stump Grinding Sydney can be an important decision in making your social status SHINE. Take good care of making it glow rather than the other way around, by selecting proficient Stump Grinding company. And we promise that if you select Complete Tree Expert, we will help it to twinkle by aiding you in making your place an Eden on earth by Sydney Stump Grinding to perfection.
Stump Grinding Sydney
Sydney Stump Grinding – The importance of Stump Grinding can best be judged by the fact that stumps prevent the area to be planted by Trees again as the roots are there to make the area barren. It becomes a problem if you want to grow some other plant on the place of the cut Tree, and are helplessly to do so as you did not took care of Stump Grinding previously. The reason might be anything ranging from past services of Tree cutting company that left the job unfinished or the Tree fall year before, which went unattended and has now made the area infertile.
why wait CONTACT US now.
Know more about our other Tree Services Sydney
Tree Removal Georges Heights
Tree Removal Service Lower North Shore
Tree Removal Sydney
Tree Removal North Wahroonga
Tree Removal North Shore Sydney
Tree Removal Beauty Point
Tree Removal Sydney North Shore
Tree Removal North Shore
Emergency Tree Removal North Wahroonga
Tree Trimming North Sydney
Tree Pruning North Shore Sydney
Pruning and Hedging North Shore Sydney
Tree Stump Grinding Sydney
Tree Surgeon Sydney
Stump Removal Sydney
Removing Tree Stump Sydney