North Sydney Stump Grinding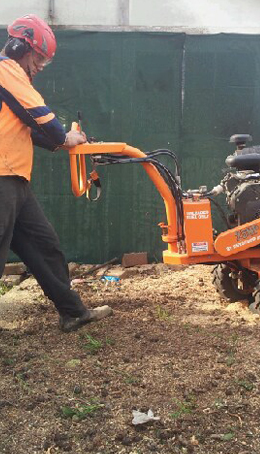 Stump Grinding Services in Sydney Region
North Sydney Stump Grinding – We mostly hear the questions like, what is the point of these stump grinding services. And we always love to answer them because there are countless facts behind this. For some people, it's simply a matter of appearance as old stumps can destroy the appearance of a beautiful landscape. For some, it is about avoiding the harmful infestation of insects and the possible spread of disease to other trees. Many others need to remove stumps because they have roots that affect the floors, pipes, sidewalks, or driveways of their homes or businesses. Whatever the cause is, Complete Tree Experts Sydney is your perfect partner.
We are the number one option for your stump grinding needs. Especially the stumps which represents a threat to your land. Grinding the stumps on your property makes it easier for you to restore and replant the area easily and also ensures that none of your family members is at risk of a potential threat or injury. We offer tree removal services for any size of trees and stumps. We will remove your stump any time you want us to, or you can also call us to book a later stump removal and grinding service.
North Sydney Stump Grinding
Since we have the right stump grinding equipment we can handle even the most stubborn stumps with a range of machines that are successfully made for stump grinding. We can handle even an incredibly wide stump or one that is situated on a hill or a stump that is in a small opening. We can leave the wood chips stacked up for you to re-use as mulch from the tree stump, or take them away if you want. Tree stumps could be uncomfortable or disruptive. There is a wide range of factors that why hiring our professional stump grinding service is helpful for you.
We provide best recommendations
Our team will work to consider your long-term and short-term plans for the affected area and will only provide you with the best land clearing guidance. This includes how big and deep the tree stump roots are to grind. The tree stump roots would need to be completely removed if a customer wants to re-plant another tree. We use protected stump grinding techniques and make sure that other greenery won't get damaged. We are specialized in providing stump grinding service in the most successful ways of getting those pesky stumps out of view.
We have powerful stump grinding equipment
Sydney Stump Grinding – We have all the powerful cutting-edge equipment and skilled technicians required to handle any stump grinding task. We can handle it from those stubborn stumps in places with a long root systems to reach. We are proud to provide swift reaction, effective completion, as well as the very best of customer service. We will manage your land with the attention it deserves, and we'll make sure to leave it even nicer than before.
Our licensed arborists provide tree removing solutions and insured work
We carry out tree removal service as a licensed arborist crew that considers the environment and the nature of your land. We strive to have a minimal effect on your outdoor space and pay great attention to your safety. Our certified arborists are thoroughly trained and experienced the expertise in combination with industry-specific equipment ensures that all our projects are conveniently completed. When our expert arborists grind your stumps, no remaining holes would be capped with soil, no broad tree roots for the land to be taken from and the elegance of seamless landscaping will be cherished.
Stump grinding service help prevent injuries
Stump grinding is an essential step when you remove a tree from a place. It is necessary in many cases but you might be required to get a permit to comply with the laws of the authority. Our licensed arborists will provide tree removal and stump grind service in north Sydney. This may be a very good safety argument to get it lowered if you have a tree that grows too close to power lines. Your tree may be aged, have an infection, or poses a health risk, so it may not be enough to prune and trim to save or maintain your tree. The complete tree experts provide advice and approaches for safe tree removal.
Get free quotes
You can rely on our Services for quality tree removing and stump grinding service that best serves your overgrown branches that need to be trimmed or removed. We offer a seasonal maintenance visit and some advice on how to make a tree to look its best. Request a quote today for an affordable stump grinding service in north Sydney.
Know more about our other Tree Services Sydney