Stump Grinding Sydney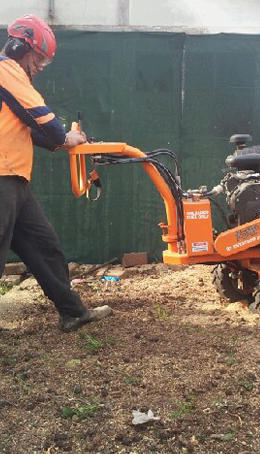 Stump Grinding Sydney
Complete Tree Experts offer a tree stump grinding and stump removal service for residential and corporate customers.
Stump Grinding Sydney – If you want to get rid of stumps at your place, Stump Grinding is the most efficient and cost effective way to do so. Digging the place and taking out stumps is a very laborious work that requires a lot of labour, meaning extra money, so we perform Stump Grinding with the high tech machineries. Although some species of Tree have very large root balls that are impossible to be removed by machineries, so we have staff that can perform Stump Grinding manually up to 6 to 8 inch below grade and even we can try to do Stump Grinding leading to cut away till Tree roots. Hence the accurate combination of skilled labour with right machinery usage is required to make the Stump Grinding job done with efficiency and Complete Tree Expert has it all.
Stump Grinding Sydney
Stump Grinding Sydney – The importance of Stump Grinding can best be judged by the fact that stumps prevent the area to be planted by Trees again as the roots are there to make the area barren. It becomes a problem if you want to grow some other plant on the place of the cut Tree, and are helplessly to do so as you did not took care of Stump Grinding previously.The reason might be anything ranging from past services of Tree cutting company that left the job unfinished or the Tree fall year before, which went unattended and has now made the area infertile.
Stump Grinding Sydney
Stump Grinding Sydney – Whether you need to plant a single Tree in place of old one or make the whole area filled with new plants,Stump Grinding is the best option and choosing Complete Tree Expert is the most appropriate solution as we provide Stump Grinding services making all your wishes related to Stump Grinding come true.
Stump Grinding Sydney, because your garden and you together need to feel beautiful!